DRIVE GATE - DG 2
The DG-2 is based on the classic Big Muff circuit architecture like the DG-1, but the DG-2 is a whole different animal that is in a tone class all by itself, very unlike a Fuzz line. The DG-2 is a blend of overdrive and warm tube amp style distortion. It harnesses the best elements of classic British plexi amp tones, with the tone coloring enriched by germanium components and saturation reminiscent of a Rat, with and a hint of Big Muff harmonics mixed in.
The DG-2 can be dialed low for warm, crunchy rhythm and lead tones, almost like an overdrive, or dial the sustain to maximum for searing, saturated, overdriven British amp-like distortion. The mid tones are very clear and articulate, allowing the DG-2 to sound just as good on the clean channel of your amp as it does on the drive channel.
Technical Information
True By-Pass, avoiding signal loss;
Extremely reinforced aluminum box;
LED of high brightness/low consumption;
Totally handmade with components selected and tested individually;
Low consumption: 1,8mA when in Stand by position and 4,8mA when working;
The power supply connector in front, 2.1mm as Boss pattern;
Dimensions: 1.5" x 2.6" x 4.8" (40x66x122mm);
Covered with polycarbonate adhesive, very tough;
SHINE BOOST – SB-1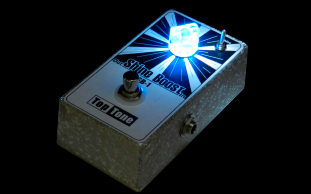 The Shine Boost SB-1 is a custom handmade effect pedal developed to provide an output signal with much more presence and gain than the input signal, free of distortion and low noise, with a purpose to go beyond the concept of volume pedal. The SB-1 pedal from TopTone intensifies the definition and the clarity of the tones, emphasizing the natural frequencies of the instrument , without compromising the nice features of the original input signal.
With just one volume knob and a small tonal brightness key (mid & treble booster), the "Shine boost" can be used in any kind of sound and style, whether for clean sounds or sounds with drive.
The SB-1 can be used in different ways in your guitar setup, the most common are:
between the instrument and the amp;
before or after the effects chain;
In the send / return of an amp.
When placed before the tube amp, the SB-1 has the function of " pushing the amp" , helping to saturate the valves , giving the feeling of increased power and making the amp looks like much more aggressive.
If placed before the chain of pedals, the SB-1 accentuates the effects of all the pedals that comes after him, such as the drive, chorus, flanger, phaser, delay, etc.
The volume knob backlit in blue neon is an exclusive innovation of TopTone, providing an unique inspiration and a great viewing even in environments and situations with low lighting.
Technical Information
True By-Pass, avoiding signal loss;
Extremely reinforced aluminum box;
LEDs of high brightness/low consumption;
Totally handmade with components selected and tested individually;
Low consumption: 1,2mA when in Stand by position and 1,8mA when working;
The power supply connector in front, 2.1mm as Boss pattern 9 – 12V;
Dimensions: 1.5" x 2.6" x 4.8" (40x66x122mm);
Covered with polycarbonate adhesive, very tough;